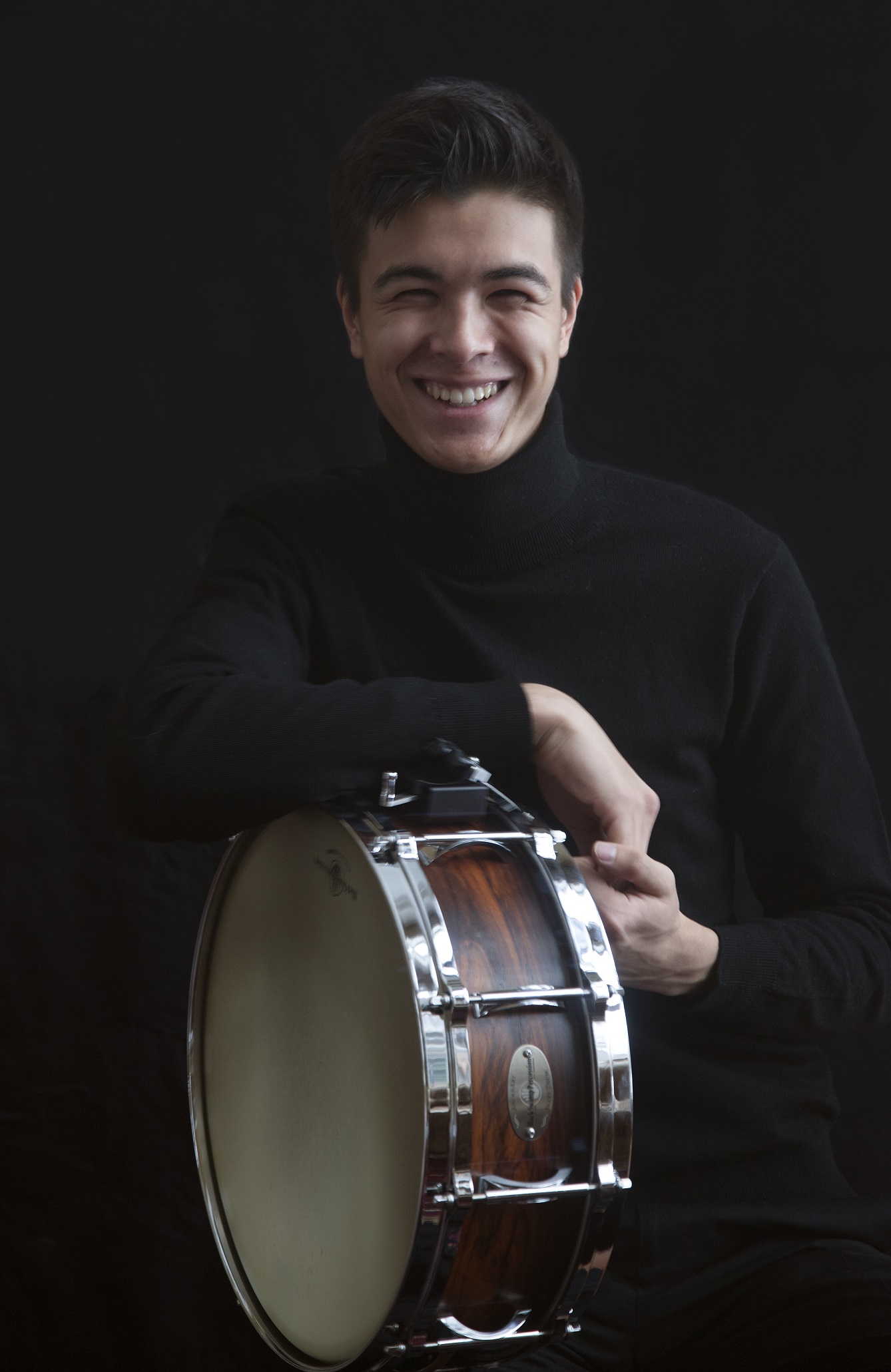 Canadian percussionist Michael Murphy has chosen to pursue the creation of new works and continue the performance of works by composers living and not far gone from this world. Murphy has appeared as a soloist with the University of Toronto Percussion Ensemble (2013, 2016) and with the Bob Becker Xylophone Seminar (2014), where he won awards for "Best Noodling" and the "Spirit of George Hamilton Green". He has also appeared with the University of Toronto Symphony Orchestra as a winner of the Concerto Competition (2015), and with Orchestra Toronto as a winner of the Marta Hidy Percussion Concerto Competition (2016).
As a strong advocator of Canadian music, Murphy worked closely with Larysa Kuzmenko on the premiere of her Dance Macabre (April 2015) for tuba and marimba, and in the next year gave the premiere of Alice Ping Yee Ho's Evolving Elements for marimba and string orchestra. He has contributed to the creation of two operas, including Isis and Osiris with Opera in Concert featuring the music of Peter Togni and appeared as a soloist with the Sneak Peak Orchestra in the premiere of Liam Ritz' Percussion Concerto Ascensions and Cascades. His performance of Dai Fujikura's BE for solo percussion is also featured on the composers' YouTube page.
Heavily involved in new music, Murphy performs in various chamber settings and has made several appearances at the Toronto Symphony New Creations Festival, the University of Toronto New Music Festival, and the 21C Festival in Koerner Hall. In 2016, he attended SICPP in Boston where he worked with Vinko Globokar, and the Darmstadt Ferien Kurse für Neue Musik. His commitment to new music has brought him to the attention of the Toronto Symphony, where he has been a guest for new music concerts and composer readings. In 2015, along with accordionist Michael Bridge, Murphy cofounded M2, a duet established for the sole purpose of premiering works for accordion and percussion. They were an ensemble in residence at the 2017 University of Toronto New Music Festival, and have since experimented with adding members to the duo.
During the 2015 Pan Am Games, Murphy joined Greta Hodgkinson and several dancers of the National Ballet at Nathan Philips Square for five performances of Venom, a dance choreographed by Guillaume Côté set to Maurice Ravel's Bolero, for an audience of over 10,000. At the Luminato Festival in the same year, Murphy took part in Murray Schafer's Apocalypsis, a massive theatrical music project involving over 1,000 performers. He was also a featured soloist at the Russell Hartenberger Retirement Celebration, where he performed ragtime solos alongside Bob Becker, and Steve Reich's Drumming Part I with the composer in attendance.
Not limited to more 'classical' forms of percussion, Murphy has studied Japanese taiko with Kiyoshi Nagata and Persian tombak with Naghmeh Farahmand. Murphy was also a member of the Boomwhacker Orchestra and the University of Toronto Steel Pan Ensemble. He received his Hon. Bachelors of Music from the University of Toronto under the tutelage of Beverley Johnston and Mark Duggan.
Last Update: February 2017